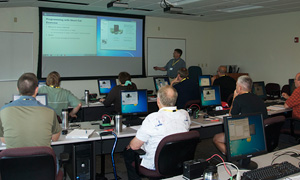 Campbell Scientific offers training courses for our dataloggers and software. These comprehensive courses are designed for those without much datalogger experience, or for those wanting to increase their knowledge. The courses have an emphasis on programming; see individual courses for itinerary. "Hands-on" programming exercises and course handouts are used to reinforce the concepts covered by the instructors.
Training can be provided by any of the European offices (UK, France, Germany or Spain) - dates given here are for the UK where we have dedicated training facilities, for training at the other offices please contact them directly.We can also run training courses externally, either at your premises or any suitable venue such as a hotel. This might be more economical if you have several people requiring training.
CR1000/LoggerNet Training (Two day course)

Campbell Scientific offer a two day introductory level training course for users of the CR1000, CR200 and CR800 series of table based dataloggers and LoggerNet (CR-Basic) support software, with an emphasis on programming. The course includes "hands-on" exercises and a comprehensive training manual to reinforce the concepts covered.
Class size is limited to six attendees to provide a high level of personalised instruction and assistance.
The two day course costs £520 or €650 plus VAT per person* for training at Campbell Park; external training can be provided at from £370/€462.50 per day plus expenses*. The price covers all course handouts, use of a laptop, a CR1000 datalogger & various sensors and includes refreshments and a buffet lunch. Attendees should be familiar with using basic Windows/DOS commands. Accomodation is not included but we can recommend places to suit varying budgets. *Additional transaction fee applies if paying by credit card (see booking form for details)
Time will normally be available to discuss specific applications and breaks provide an excellent opportunity to network and share experiences with delegates from other organisations. However, if you wish to focus on specific applications or topics then we can provide bespoke training tailored to meet your need - this tends to be economic only where you have several staff requiring the same training
Available Training Courses